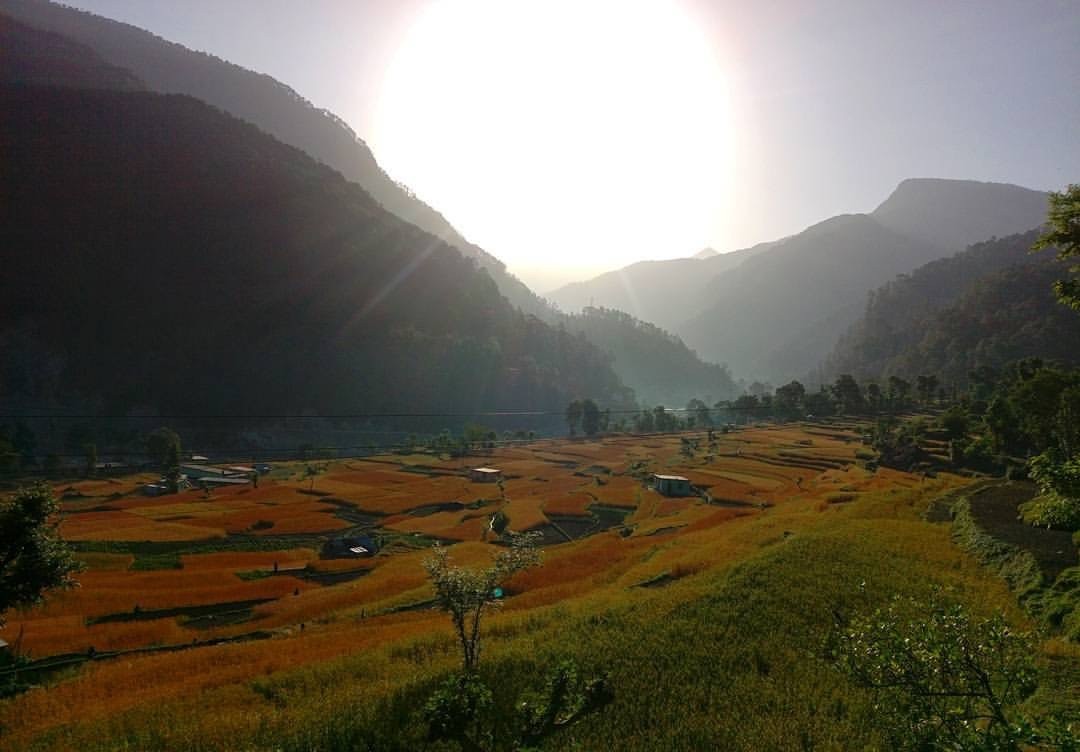 Baisakhi (13th/14th/15th April) is the harbinger of summer days. It is the last of the winter harvest and brings in the summer during the months of Vaisakh and Jyeshtha. Traditionally, India and her farming community still follow a solar and lunar almanac for sowing and harvests - the almanac differs as per region using either full moon or dark moon as reference for the months. The lunar dates vary on the Gregorian calendar while the solar dates are constants. Wheat is harvested in the north of India during Baisakhi on

13th April

which is a fixed date as it is a solar festival...like makar(Capricorn) sankranti on the

13-14 January

and kark(cancer) sankranti on

14-16 July

. Most new year festivals in India are celebrated as per harvest cycles which differ from region to region according to the local climate. The festivities are marked on specific lunar, solar and planetary alignments. The usual references used are the Sun, moon, Jupiter and Saturn as these are the most obvious objects in the sky and they follow a 60 year cycle of coming back to the same point in the skies. Our ancestors observed and noted natural occurrences for each of these 60 years and left predictions how the year ahead would be in terms of season, rainfall, disaster as floods and such. Over and above, there yet exist people in villages who can tell at exactly which place to dig a well to find water easily. These ancient scientists are a fast dwindling lot as Indian farming is now taking to harsher and invasive western methods.
Grain and herbs when sown and harvested as per astronomy cycles give optimum benefits to the body. Traditionally, my grandmother and mother purchase grains and spices after harvest, which are then stored and used throughout the year. Indian households today are moving away from this system and paying an unhealthy price while losing out on the tradition too.


The period from the beginning of late spring in the month of Chaitra (https://www.facebook.com/theyogaschoolin/posts/262968407576368) to Baisakhi is also the time for resurgence and regeneration of nature. Ayurvedic Panchakarma, detox and cleansing of the accumulation of kapha from winter months is recommended in preparation for the summer months of Vaisakh and Jyeshtha.


For Sikhs, Baisakhi marks the day that Guru Gobind created the Sikh fold with first five Sikh called the Panj Pyare(5 beloved/favourite). The story is interesting: He tested the devotion of his devotees by calling them one by one into a closed tent, only to emerge alone with a bloody sword after the devotee was purportedly killed by him - in actuality, he had dipped the sword in goats blood, but thus tested the resolve of his devotees of which only five emerged true in their faith to the Guru. Sikhs visit Gurudwaras, listen to kirtans and take kada prasad(food offered to divine) of sweet semolina. In Himachal Pradesh, Baisakhi marks the final goodbye to winter. The devout take purifying dips in hotsprings at Tattapani near Shimla and Prashar near Mandi.Naba Varsha(new year), or Poila Baisakh is celebrated in Bengal. Kerala celebrates the festival of Vishu. Assam celebrates seven days and as Rangali Bihu and also marks it as a fertility festival much like ancient Easter was too. People in Bihar pray to the Sun God at a place called Surajpur Baragaon. In Uttarakhand, the whole month preceding Baisakhi is celebration of spring as phool-dehi(floral offering) wherein little girls come to decorate the doorway with flowers and petals every morning; it is truly beautiful to awake to an integrated culture of tradition woven with climate and festivities. The Kumaon region celebrates the festival as Bikhoti.


Buddhists believe that Buddha attained enlightenment on this day. The new year falls on or about the same day every year for many Buddhist communities in parts of South and Southeast Asia. Some examples include: Vaishak Ek in Nepal,Aluth Avuruthu in Sri Lanka,Songkran in Thailand, Chol Chnam Thmey in Cambodia, Pii Mai Lao in Laos, Thingyan in Myanmar.


All in all, these festivals and diverse cultural practices are remnants of a lifestyle lived in the rhythm of nature's cycles and an attunement to the code of the universe of which we are but a tiny part. Our role as universal souls is to recognise that divine unity in the diversity of all existence and coexist with nature. We must try to return to our traditional roots and relearn the ways of our ancestors. The Vedic way of life that encompasses all life as one family in Vasudhaiva Kutumbakam = Vasudha(Mother Earth) Iva(is) Kutumba(family) is the goal of all yoga of which the true purpose is to arrive at this oneness.